Stay safe around rivers: warning as lockdown eased and temperatures soar
The Environment Agency is urging the public to stay vigilant to hazards in and around waterways Published 26 June 2020
From: Environment Agency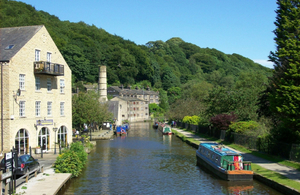 The Environment Agency is urging the public to remember the hazards under water in rivers while spending time with friends and family
As the government eases restrictions on movement caused by the coronavirus outbreak, the public is being warned to keep safe around rivers and canals.The Environment Agency, which manages many locks, weirs and bridges across England, wants people to remember the hazards under the water in rivers while spending time with friends and family.The message is clear: vigilance can save lives, and water-related accidents can be avoided by knowing how to stay safe.
Top tips for river safety:
Don't jump or dive in as the depth may vary and there can be unseen hazards
Don't go in near weirs, locks, pipes and sluices. These and some other water features are often linked with strong currents
Inland waters can be very cold, no matter how warm the weather. Those going into cold water can get cramp and experience breathing difficulties very quickly
Keep a look out for boat traffic. Boaters, especially on larger vessels, can find it very hard to spot swimmers.Toby Willison, Executive Director of Operations for the Environment Agency, said:
It's imperative that as the coronavirus restrictions are eased, the public are wary of the hazards around them when near or on the water.We urge people not to jump or dive into water and to stay away from weirs, locks and pipes. There can be unseen hazards in the water, cold-water shock can affect even strong swimmers on warm days and social distancing must be continued to protect the public, staff and boaters.
Jo Talbot, Royal Lifesaving Society (RLSS) UK Director, said:
We as a charity are certainly concerned about the impact of such a beautiful spell of weather on the number of people that are involved in fatal water incidents. It is a great time to get out and enjoy our beautiful waterways but it is crucial that everybody understands that no matter their ability, the water comes with risk, in particular the impact of cold water and falling from heights.Despite the warm air temperature, the water temperature is still dangerously and often fatality cold, it can debilitate the most competent swimmer. Many people simply do not have the experience to swim in cold water and if they aren't used to it then, simply, our advice is that they should not go in. We are urging people to proceed with caution, take responsibility of their own safety and apply common sense.The right choices, at the right time results in an enjoyable day around the water. For advice on how to stay safe around the water, visit the RLSS website.
Parents and guardians can help keep children in their care safe by:
Teaching them to swim
Warning them not to go into water alone, or unsupervised
Ensuring they know where the children are and what they are doing
Supervising them closely when near any open water
Drowning can occur very quickly, even in shallow water, and the key to keeping safe is to take all necessary precautions to avoid getting into difficulty in the first place.Unexpectedly cold waters or strong currents can also catch bathers off-guard.Youngsters are often seen jumping off the many bridges along the Thames. While this may seem like great fun, there are hidden dangers in the water that can cause tragic consequences.
Guidance on staying safe around water can be found on GOV.UK.