Deadly accidents: a timeline of recent crane collapses in the UK

Deadly accidents: a timeline of recent crane collapses in the UK
INSIGHT
13/07/209:30 AM
BY JACK SIMPSON
A death linked to the collapse of a crane in Bow, east London, has once again shone a light on the potential dangers these machines can pose to construction workers and the public. Here Jack Simpson runs through a potted history of major crane accidents that have taken place in the UK in the past two decades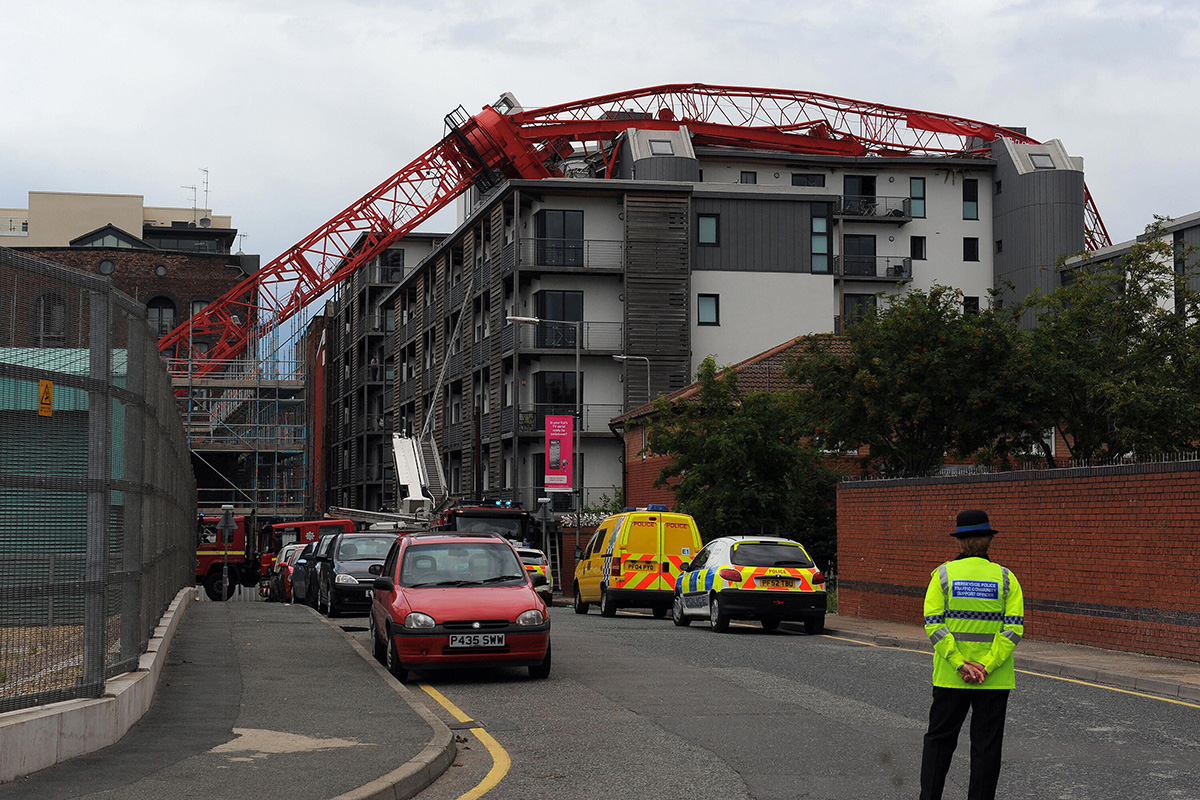 Chandlers Wharf crane collapse (picture: Getty)
Sharelines
After the latest death linked to the collapse of a crane, Jack Simpson runs through a history of major crane accidents that have taken place in the UK in the past two decades #ukhousingOn Wednesday last week, a horrendous accident in Bow, east London, saw a crane being used on a housing association development site collapse onto a home, killing one and injuring four more.The victim was identified later as 85-year-old June Harvey, while a worker for crane firm WolffKran was hospitalised and left fighting for his life.
READ MORE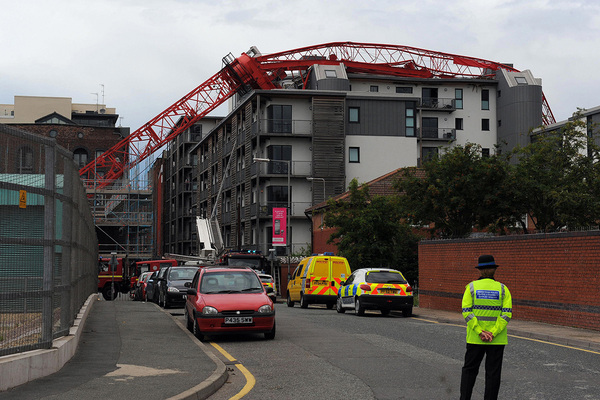 Deadly accidents: a timeline of recent crane collapses in the UK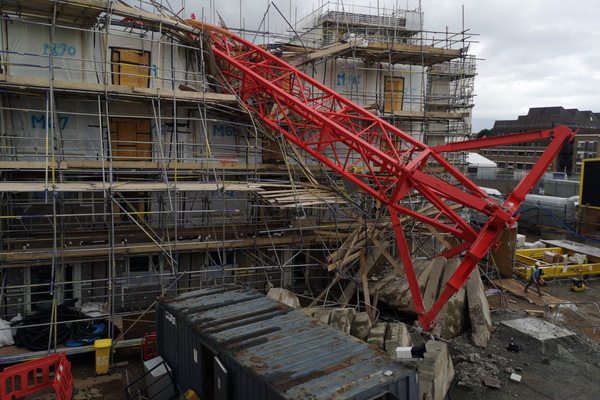 Houses damaged in deadly crane collapse are owned by housing association
The collapse also led to nearly 100 people being evacuated from their homes and placed in temporary accommodation and thousands of pounds worth of damage.The incident is a reminder of just how dangerous cranes can be. There have been a number of accidents with serious consequences in recent years, often leading to death or serious injury. Inside Housing has put together a timeline of some of the most high-profile crane incidents in the past two decades.
May 2000: Canary Wharf, east London
Working in Canary Wharf on the new HSBC tower, three workmen were killed after plunging 400 feet from one of the cranes being used to construct the huge skyscraper on London's Docklands.
The men, Peter Clark, 33, Martin Burgess, 31, and Michael Whittard, 39, were in the crane's cab and attempting to jack it up to a higher level, also known as climbing the crane, when it crashed 25 storeys. The BBC described the crane's cab as landing in a building crater while the crane's arm landed in Canary Wharf's North Colonnade. According to Construction News, it was the third crane scare at the site in six weeks.
A coroner's court returned an open verdict in 2003, with the Health and Safety Executive (HSE) saying that despite extensive investigation, the technical cause of the accident may never be known. The inquiry did reveal that a special safety plug was missing on the crane and there was no anemometer in the cab to measure wind speed.
February 2005: Worthing, Sussex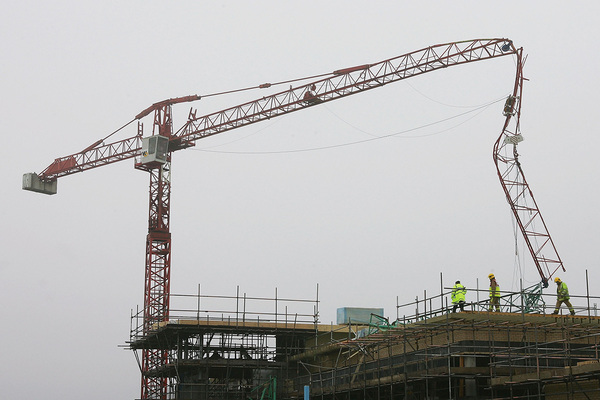 Two crane erectors were killed and another suffered serious injuries after the crane they were dismantling collapsed on the construction of a new school in the Sussex town of Worthing.
Gary Miles, 37, and Steven Boatman, 45, were working for rental company WD Bennett Plant & Services on the project. They died at the scene while the crane's operator suffered severe injuries. It was later found that the root cause of the accident was loose bolts on the crane's mast section.
The crane also collided with another nearby crane when falling causing further damage. The site was 150 yards from Durrington High School but luckily no students were harmed as a result of the crash.
WD Bennett were fined £125,000 in 2009 and were also ordered to pay costs of £264,000. WD Bennett was liquidated after the hearing meaning the costs went unpaid.
The HSE would later say that the incident raised issues of operator competence and training in the UK crane industry.
September 2006: Battersea, south-west London
A crane operator and pedestrian were killed in Battersea, London, when a 50m-high crane collapsed onto a block of flats.The crane's operator Jonathan Cloke, 37, died from severe head injuries after falling from his cab. Michael Alexa, 21, was also killed after the crane situated near the famous power station fell on him while he was changing the wheel on his car.
The crane belonged to hire company Falcon Crane Hire. A later police investigation would find that the machine had been overloaded and 24 bolts had failed due to metal fatigue. The HSE also found that Falcon Crane Hire had an inadequate system to manage the inspection and maintenance of their fleet of cranes.
In 2016, Falcon Crane Hire was fined £750,000 and ordered to pay costs of £100,000.
In 2017, Falcon Crane Hire was dissolved. At the time, a spokesperson for Tower Crane Asset Management Holdings, the hire firm's parent company, said the fine had no bearing on the decision to dissolve it and it was down to the fact that it did not engage in rental activities and staff retirement. Falcon Crane Hire ceased hire activities in 2016.
January 2007: Elysian Fields, Liverpool
Father-of-two Zbigniew Roman Swirzynski was killed in January 2007 after an incident that saw a 120ft crane crash on a site in Liverpool. Mr Swirzynski was working at the Elysian Fields site when bolts on the crane failed, resulting in the main part of the crane falling from its tower onto the building being constructed.
The crane hire company Falcon Crane Hire was served with a prohibition notice by the HSE after the incident, meaning all of its 180 tower cranes had to be temporarily taken out of service. It was the second incident involving the company in less than a year after the Battersea incident.
An inquest would later rule that Mr Swirzynski died when he was hit by a concrete counterweight weighing two tonnes.
The HSE ruled in 2008 that it would not prosecute, concluding there was insufficient evidence to bring proceedings against those parties involved.
June 2007: Croydon, south London
Three people were left trapped in the tower of a crane for several hours after a crane collapsed onto the roof of a hotel in Croydon. The crane's driver John Young, 39, also suffered severe injuries including a number of fractures when the crane collapsed. He was left in a body brace for 10 weeks following the incident.The incident happened as workers were trying to extend the mast of the crane but had not put in place essential bolts and washers to secure the cab. The plant hire company Select Plant Hire would be fined £100,000 after admitting health and safety breaches.
July 2009: Chandlers Wharf, Liverpool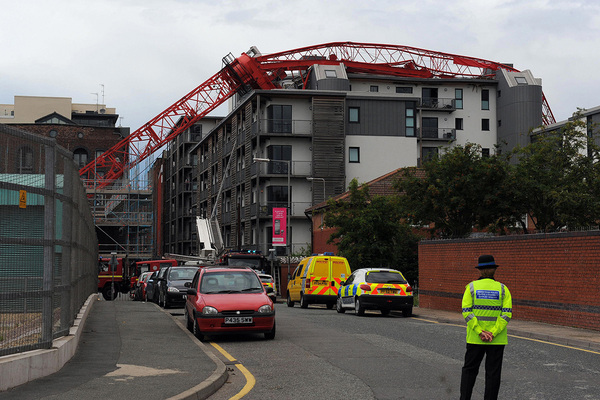 Crane driver Ian Gillham was paralysed when he was thrown from his cab while working on housing development in central Liverpool in 2009. The 200-tonne crane collapsed onto an apartment block at Chandlers Wharf in the city and saw Mr Gillham thrown from his cab, resulting in multiple injuries including a brain haemorrhage, fractured skull, spine fractures and broken shoulder. He was left paralysed from the waist down.
Contractor Bowmer and Kirkland and Liverpool construction engineer Bingham Davis were found guilty of health and safety breaches. Their insurers would later settle out of court with Mr Gillham, paying him £2.7m.
March 2014: Blackwall, east London
A construction worker was hospitalised after suffering serious head injuries after a crane jib collapsed on luxury residential development site in Blackwall, east London. The incident happened at Ballymore's New Providence Tower, with a member of contractor Balfour Beatty's project team being taken to hospital.
The incident resulted in road closures around the site and people forced to evacuate from nearby businesses and restaurants.
June 2017: Crewe
In June 2017, an incident on a residential development site in Crewe led to the death of three men. David Newall, 36, and Rhys Barker, 18, died immediately from crushing after their crane fell as the men were erecting it. A third man, David Webb, 43, would die from his injuries a month later.
The three men worked for crane hire company Falcon Tower Crane Services. Falcon Tower Crane Services was a subsidiary of Tower Crane Asset Management Holdings which also listed Falcon Crane Hire as a subsidiary.Falcon Tower Crane Services said at the time that it would leave no stone unturned to establish what went wrong and would assist with the investigation and learn safety lessons.
Following the deaths unions called for the government to review axed regulation on the use of tower cranes. This included a call for the sector to reintroduce a national register for all tower cranes which was scrapped in 2013 after a recommendation from the HSE. The register also placed a duty on employers to carry out thorough inspections following installation and re-installation and notify the HSE when these inspections took place.
from: ttps://
www.insidehousing.co.uk/insight/insight/deadly-accidents-a-timeline-of-recent-cr