Stewart Gosling of RDD, UK importers for Mitsubishi Forklift Trucks, believes the way in which businesses return to work could be pivotal — with visionaries seizing the opportunity to review their entire operation: the loads they move, the methods and equipment they use, and the number, safety and effectiveness of the staff on site. In short, is everything still fit for purpose?
It's no surprise that the return to work has been slower and more tentative than many predicted. Most employers are acutely aware of their responsibilities, and staff are understandably concerned about their welfare… and job security.
To help you figure that out, RDD has created a resource centre containing free, practical guides, how-to videos, posters, checklists and case studies showing ways that companies have cut costs or solved intractable problems.
Stewart says: "For me, the most interesting and valuable of these is a purpose-built Back To Work Health Check, which we've made available as a PDF or an interactive online questionnaire. Deceptively simple yet comprehensive, it allows a busy manager to review their storage and handling operations for both the short and longer term."
For convenience, and because functions may be divided among a number of colleagues, the survey is split into three areas:
Site – puts the focus on what may have changed in recent times and what could affect future activities.
Equipment – explores whether handling equipment meets HSE guidelines (and forthcoming changes in legislation), the adequacy and safety of storage, as well as potential health issues from emissions.
People – covers everything from training regimes and pedestrian segregation, to materials handling procedures and social distancing measures.
Top tips for improving materials handling safety and efficiency on site
Use that human touch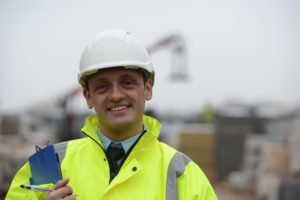 "We are aware that this is a time for listening and working with the wider community to help people find the best possible outcomes," emphasises Stewart Gosling. "By talking to someone who's done it all before, users of materials handling equipment can familiarise themselves with the latest techniques and technologies — many of which may been introduced since the customer was last in the market.
"That's why we are making available, without any obligation, the services of our national network of site survey specialists. They can help a manager review and examine ways to adapt and improve operations — often at low or no cost.
"It was their idea to create the Back to Work Health Check. They appreciate more than anyone the importance of the most appropriate site configuration as well as the correct number and types of trucks for each specific application.
"It's important to remember that equipment is extremely cheap when compared to the cost of an operator — so it pays to make sure they have the tools to get the job done… along with the appropriate skill-set and training."Future-proof your decisionsIn a world that has seen so much change in such a short space of time, Stewart Gosling urges businesses to do everything possible to future-proof their decisions.
"In terms of motive power, for example, the HSE is increasingly critical of the use of IC engine trucks in confined spaces. Where LP gas or diesel can't be avoided, the buyer should be aware that all new trucks will need to comply with Stage 5 emission standards.
"Similarly, if you're serious about employee welfare, you'll want to make sure your next forklift comes equipped with measures to prevent the spread of airborne dust particles which are a real health hazard in indoor spaces."Meet HSE guidelines for unexpected benefits
Part of the survey addresses the use of hand pallet trucks. If you are using them frequently or to move loads at their maximum capacity, you might well be in breach of HSE guidelines. Switching from a manual hand pallet truck to an electric one reduces the cumulative strain on operators and lowers the risk of absenteeism due to injury.
Open your horizons
"After all we've been through, there's a natural tendency to focus solely on what we are forced to do in order to comply," sums up Stewart Gosling. "My message to businesses is to take a moment and explore ways to go back better. What have you got to lose?  Armed with this online survey and with the option of calling in someone to provide some specialist knowledge you can not only make your site COVID-secure, but financially robust and fully geared for the challenges — and opportunities — ahead."

from: 
https://www.shponline.co.uk/uncategorized/is-your-materials-handling-equipment-still-fit-for-purpose...